Late summer -- fiery, brooding, and heavy with anticipation. Summer thunderstorms are some of my favourite weather: weird, fey, dark weather, in which anything could happen, and the world is alive. This is a mix for dark skies and high winds and heavy hot air cut apart by rain: and then, the aftermath. (It is also full of cellos: as if I needed an excuse.)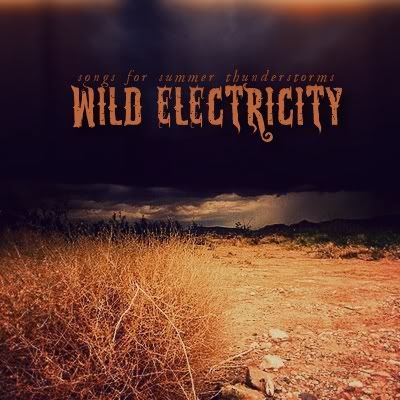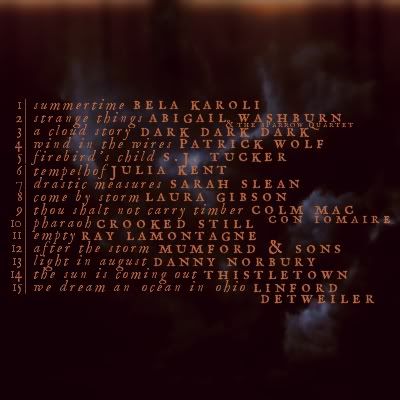 1. summertime | bela karoli
one of these mornings
you're gonna rise and sing it
then you'll spread your wings
and you'll take to the sky

2. strange things | abigail washburn & the sparrow quartet
well, ships are sinking on the ocean
planes are having collusion in the air
well, people, you may not believe it
but there's something wrong somewhere

3. a cloud story | dark dark dark
let me tell you of a dream I had
sleeping one late summer's night
I couldn't believe what I was seeing
from where I lay inside

when I awoke from my slumber
I couldn't believe my eyes
when I awoke from my sleep
the clouds had fallen from the sky

4. wind in the wires | patrick wolf
wind in the wires
it's the sigh of wild electricity
I'm on the edge of a cliff
surpassing
comfort and security

but here comes a gale
a crippling anger
sea birds are blown
into the rocks
grace is lost to thunder

5. firebird's child | s.j. tucker
join in the dance, and make it wild, wild, wild!
join in the dance and make it wild!

6. tempelhof | julia kent
instrumental

7. drastic measures | sarah slean
I'm like the trees in the midnight parks
losing danger, igniting sparks
we've been left by the viaducts
with the last flame of the universe

8. come by storm | laura gibson
if the dark falls early
would you come in the night
would you come with the morning
come by fire or come by storm

9. thou shalt not carry timber | colm mac con iomaire
instrumental

10. pharaoh | crooked still
pharaoh's army sure got drownded

11. empty | ray lamontagne
lay your blouse across the chair
let fall the flowers from your hair
and kiss me with that country mouth so plain
outside the rain is tapping on the leaves
to me it sounds like they're applauding us
the quiet love we make

12. after the storm | mumford & sons
and after the storm
I run and run as the rains come
and I look up, I look up
on my knees and out of luck
I look up

night has always pushed up day
you must know life to see decay
but I won't rot, I won't rot
not this mind and not this heart
I won't rot

13. light in august | danny norbury
instrumental

14. the sun is coming out | thistletown
the sun
is coming out

15. we dream an ocean in ohio | linford detweiler
instrumental
♫: "firebird's child", s.j. tucker